Special Branch Activities
Branch Participation
Engineering Paper Sales
All engineering students are required to use engineering paper for both schoolwork and general computations. Since paper is essential for many things, students go through many sheets in a year. This can become quite expensive so each year the student branch purchases ASABE engineering paper printed in Ames, Iowa to sell to members. A pad of 100 sheets sells for $4.00, or 200 sheets for $8.00. In addition, for design courses students are required to have design notebooks. These are available to students for $25.00. These are a discount prices for students, and also generates a small profit for the club. This is high quality paper which includes the ASABE and Iowa State University logos.
Apparel Sales
Each year the Iowa State Chapter of ASABE orders club polos and t-shirts. Club polos are worn for the club picture, during industry tours, and are often worn for more formal presentations in courses. During the 2016-2017 school year members were able to also order t-shirts, sweatshirts, baseball caps and stocking hats. These are worn by students for informal occasions, such as in day-to-day occasions and around campus.
Freshman/Transfer Barbeque
The ASABE Grillmaster was asked to grill burgers for Iowa State's Ag Council's barbeque acquainting freshman and transfer students with the college and opportunities offered. The event was held outside of the Kildee Pavilion. Six club members helped grill for eight hundred students served.
Engineer's Week
During a week-long celebration of engineering in the spring, ASABE volunteered time to assist in grilling a free luncheon for engineering students. In such, they were able to promote the club and department.
Community Service
Throughout the year Iowa State's Student Branch of ASABE serve the community through various events. On campus events include volunteering with FIRST Lego League, whose Iowa Championships are held at Iowa State University; volunteering as judges at a Middle-School and High-School Science Bowl and donating time and food to SHOP, an on-campus food bank.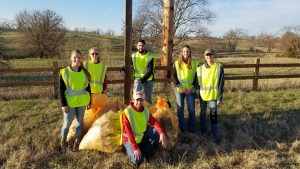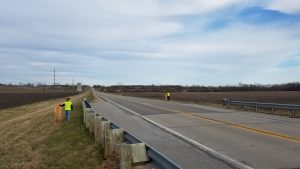 Members picking up the ditches for a community service event.
Career Educational Programs
FFA State Convention
The Iowa FFA Leadership Conference was held in Ames, Iowa in Hilton Coliseum and the Scheman Building on Iowa State University's campus. The club had several members assist in leading students around the campus and giving tours. They also helped to grill at the event, cooking pork loins to serve many students.
AgBots
This year the Community Service Committee started a new program called AgBots. The purpose is to pair a club with an elementary or middle school to promote STEM fields, with agricultural and biological systems engineering specifically in mind. The Student Branch paired with an eighth grade classroom at Gilbert Middle School to do such. Throughout the year, members would travel to give a short presentation and lead an activity promoting teamwork and efficiency in corralling "animals" (hexbugs) from one location to the next.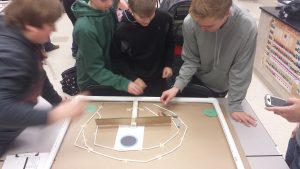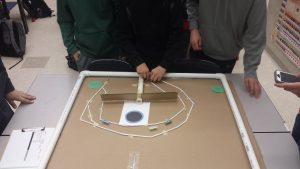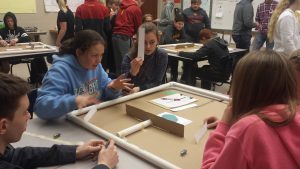 The AgBots program implemented at a local middle school.
Inspection Trips and Tours
Fall Industry Trip
The morning of October 6, 2016 nineteen members depart for Minneapolis, Minnesota. On the way, they stopped to tour Hagie Manufacturing, Sukup Manufacturing and Kraft-Heinz Jell-O. The following day, the branch attended flour mills with Archer Daniel Midland and General Mills. The students were able to select between two consulting firms, Power Engineering and VAA Engineering. To wind down the day's activities, members partook in an evening meal together and a tour of Surly Brewing Company, a craft brewery. Saturday, the students visited Como Park Zoo and returned to Ames.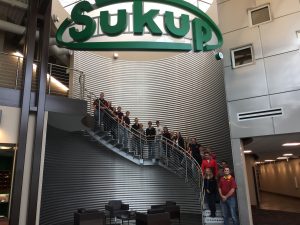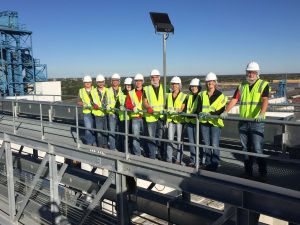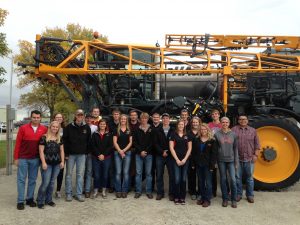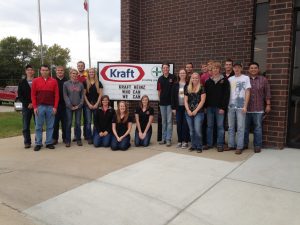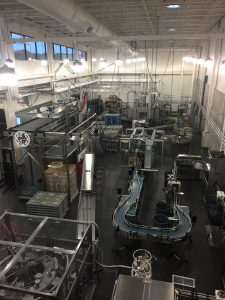 Members at the various locations visited on the fall industry tour.
Attendance at ASABE Meetings
Annual International Meeting
Seven members of Iowa State University's Student Branch attended the International Meeting in Orlando, Florida July 17-20. Several members presented research and papers, while teams of students also participated in the competitions and networked. Results included a fourth place finish for Fountain Wars, a sixth place finish for the Robotics team and sixth place overall finish for the ¼ Scale Tractor Student Design Competition. Each team also received several awards in alternate categories.
Midwest Regional Rally
March 2-4, 2017 Midwest Regional Rally was hosted at Iowa State University. Attendees from various schools arrived on Thursday to check-in. Then a social and networking event was held at Perfect Games. Friday allowed the students to split into three groups with various tour options. One group saw Danfoss Power Solutions and John Deere Des Moines Works. Another visited the Iowa State University Dairy Farm and Poet Bio-Refinery. The third option included tours of a Beef Feedlot Runoff Control Facility (Vegetative Treatment Facility) and the Iowa State University Wetland Conservation tour. Lunch was held at Hickory Park between the morning and afternoon tours, while dinner was semi-formal at the Alumni Center. Saturday, attendees toured the BioCentury Research Farm before convening for a tour of the department facilities, lunch and a closing meeting.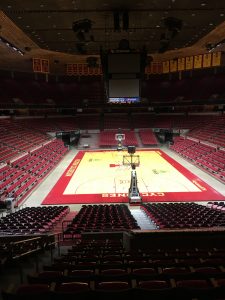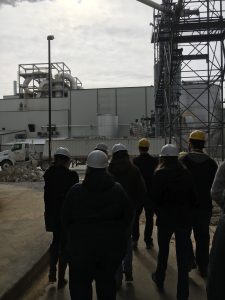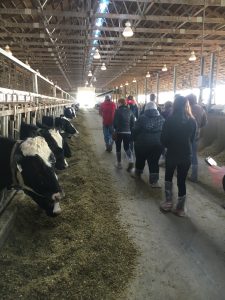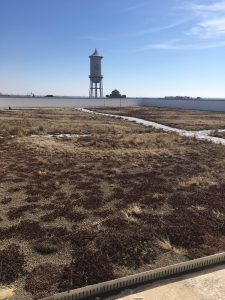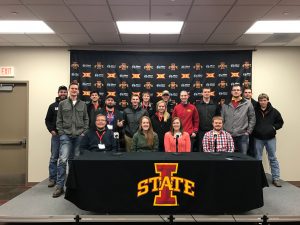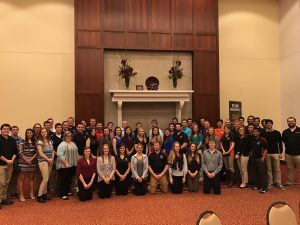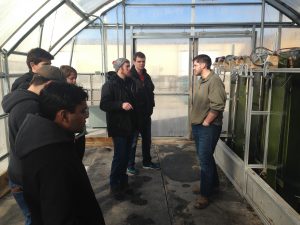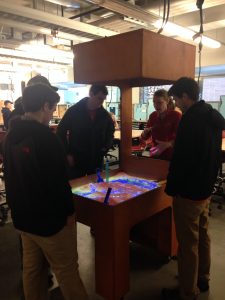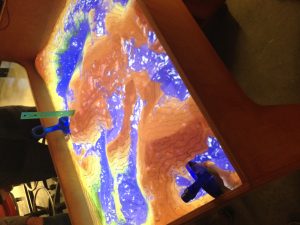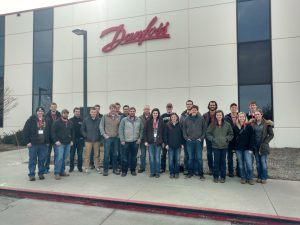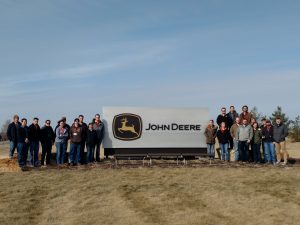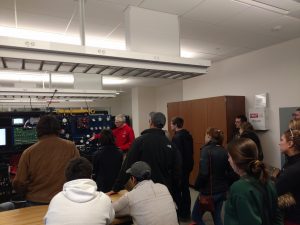 Attendance at the Midwest Regional Rally hosted by the Iowa State Student Branch in Ames, Iowa.
Iowa Sectional Meeting
The Iowa Section Spring meeting was held on March 20, 2017. Four members were in attendance. The meeting consisted of a visit to Kirkman Dairy, a large 6,000 cow dairy located outside of Kirkman, Iowa with the largest cross-ventilated dairy barn in Iowa, extensive manure management and two rotary milking machines. The attendees then traveled to Templeton Rye Facility to learn about the whiskey making process, and a tour of the bottling and warehouse areas. Dinner was held at the Templeton Center with John Stinn serving as the Keynote Speaker. A business meeting followed.
Social Functions
Cookouts
In order to bring students, faculty and staff of our department together, the Iowa State ABE department held a fall barbeque on August 30, 2016. The ASABE Club sponsored the cookout and grilled the food for the event. Seven members grilled and served several hundred hamburgers to faculty, staff and students in the parking lot of the Biorenewables Complex.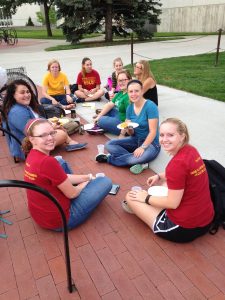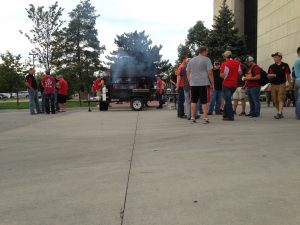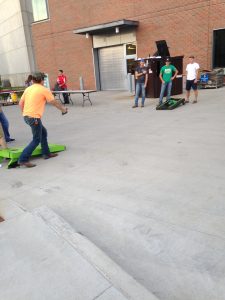 Interdepartmental Tournaments
Each fall and spring the social committee pairs with that of the Agricultural Systems Technology Club. The fall semester hosts a flag football team with the two clubs facing off. In the spring, a slow-pitch softball game is played.
Iowa Sectional Tailgate
September 24, 2016 the Student Branch was invited to socialize and network with the engineers of the Iowa Section of ASABE. The student branch was asked to grill at this event, and were compensated for the supplies and time they donated. All were invited.
WASABE
The Women in ASABE host a gathering each month, to further establish their connections and promote it within the ABE department of Iowa State University. Examples of events included cookouts, a Thanksgiving potluck, chocolate fondue for Valentine's Day and a white elephant gift exchange.
Socials
In order to bring the members of the Student Branch together, several socials are hosted throughout the year. This year they included an Olympics style tournament, two Night Out for Majors events and a social to Seven Oaks, a local ski resort.
Intramurals
Throughout the school year, ASABE sponsors members of the branch to be active in various intramural tournaments. In the fall semester this included broomball teams, battle H2O and volleyball. The spring season included ice hockey and broomball. A highlight of the year was the women's broomball game winning the championship in their division.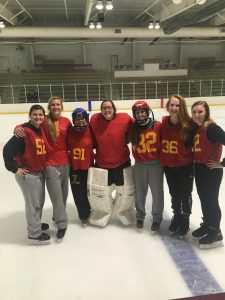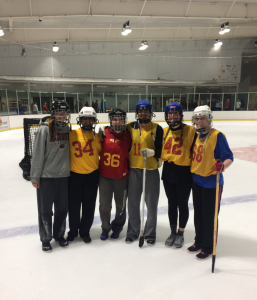 Branch Publications
ISU ASABE Website
The branch maintains a website for members and non-members to what the club is about. In addition to current meeting agendas, past meeting minutes can be found on the site. The page also has an updated calendar of events, announcements, photos and current events in the news related to agriculture.
Facebook Page
A Facebook page is also maintained by the branch. Here members may upload photos, post ideas and network, while also serving as a quick and effective form of communication for members. There is also an extension where members may purchase and sell books required for classes relating to their majors.
Twitter
Our chapter now has a twitter account through which members may maintain contact with the events of the branch.
E-Mail Server List
The secretary is responsible for maintaining the list of all email addresses of members. Through this, minutes may be emailed post-meetings, and a reminder may be sent prior to meetings and events.
Departmental Publication
A publication is emailed to all students within the Agricultural and Biological Systems Engineering Department on a monthly basis highlighting recent events and publications within the department
Special Member Activities
Campus and Community Participation
The following involvements were reported in a survey completed by the club. Therefore, they are subject to the responsibility of members to complete such.
ABE Department Peer Mentors                   Agronomy Club
Alpha Delta Pi                                                  Alpha Gamma Rho
Alpha Epsilon                                                   Alpha Zeta
Alternative Breaks                                          Block and Bridle
BSE Club                                                           CALS Council
Campus Honors Program                              Cardinal Key Honor Society
Collegiate 4-H                                                 Dairy Science Club
Engineering Student Council                        Engineers Without Borders
Motorcross Club                                             Navigators
SALT Company                                                St Thomas Aquinas
Student Government                                     Society of Women in Engineering
Tau Beta Pi                                                       TEAM
Women in Science and Engineering
Publications
At the 2016 AIM meeting, student member Katlyn DeVoe presented a published paper. At the 2017 AIM meeting, student members Rachel Herzberg and Brad Richardson will be presenting research and submitting papers for the K.K.Barnes student paper competition.
EIT Exam
During the 2016-2017 school year, twelve members of the Iowa State University ASABE Student Branch took the EIT Exam. At the time of this report's submittal, the pass rate of those having taken the EIT Exam were not yet returned.