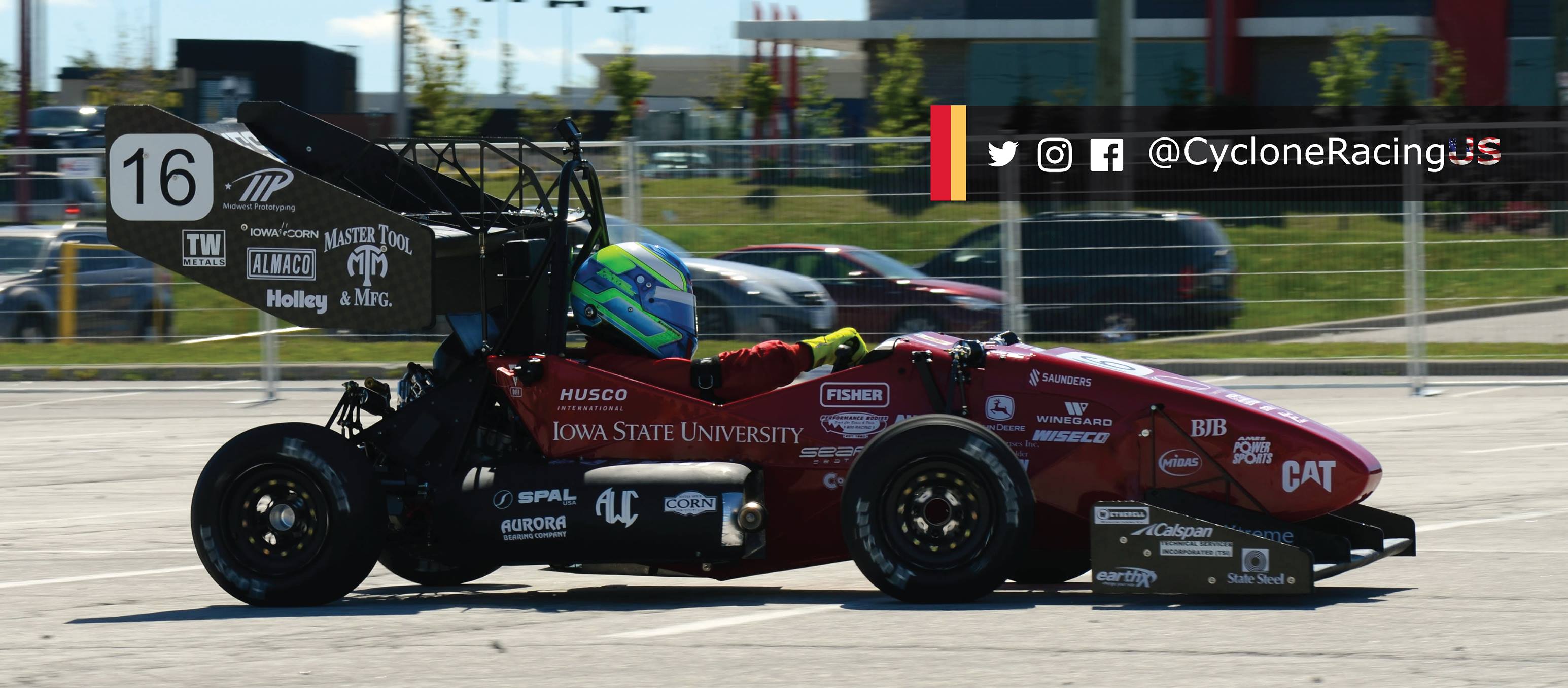 About Formula
---
Cyclone Racing's Formula Team designs, builds, tests, and races a formula style race car each year to compete with approximately 450 teams from all around the world at several Formula SAE Series events. Most aspects of being a professional racing team are evaluated and judged, and the team operates largely from private sponsorship with support from Iowa State University. Teams must demonstrate a top-performing racing machine on the track, and also demonstrate their working knowledge in engineering and marketing through a series of presentation events.
If you are wondering why we do this, the answer is simple. We have fun! As future professionals we appreciate taking the extra effort to gain real-world experience and learn about new, cutting-edge technologies that deal with the design, manufacturing, and testing of a race car. We usually find ourselves spending more time on the car than in the classroom. The experiences and friends gained through such a team are invaluable to our futures. The only requirement for members is that they be students; all majors are welcome!
Competition Details
---
The Formula SAE competitions see colleges and universities from around the world put their designs and hard work to the test. Various different static and dynamic events contribute to a team's score. Static events showcase a team's business and marketing strategy, while the dynamic events put the actual vehicle to the test in a track setting. For more information on the design series, visit the SAE website.
2018 – 2019 Formula Sponsors
---
Platinum Level Sponsors:
Master Tool and Mfg.
Midwest Metal Products
Midwest Prototyping LLC
Gold Level Sponsors:
State Steel
Technical Services Inc.
Novelty Machine & Supply
Silver Level Sponsors:
Altec Inc.
American Waterjet
BorgWarner
Fisher Controls
Hot Cams
Jacobs Corporation
Hagie Manufacturing
POET
Midwest 3D Solutions
Koolma
Bronze Level Sponsors:
Aurora Bearing
Axial Industries
Calspan
Composites One
Cox Design & Metal Fab
Deatschwerks
Textreme
Valley Machining Company
Dewitts Radiator
Harris Auto Racing
Performance Bodies
Sears Seating
Wiseco
Performance Connection Plus
Airtech International
To become a sponsor for the Aero Design team, visit our sponsorship page.
Social Media
---