Iowa State previously hosted the 2017 NSEC. We will again be hosting it in spring 2020. 2018 is hosted by UCF and 2019 is hosted by CalPoly.
Here is a look at our 2017 competition!
2017 National Sales Engineering Competition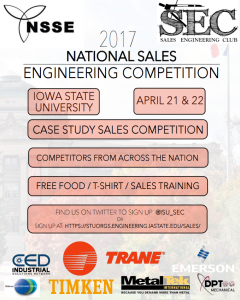 What is the NSEC17′?
The National Sales Engineering Competition is a team based case study competition. Throughout the competition, students will have the opportunity to evaluate several case studies that related to the Sales Engineering field. These case studies will be judged by industry members and sponsors. These judges will be able to provide valuable feedback and networking opportunities for everyone involved. This year's case study topics will include a mix of HVAC, renewable energy, and large industrial equipment. The competition this year will have a prep class for students from ISU a week beforehand, in order to refresh them on the technical sales process.
Friday:
Breakfast/Lunch, Welcoming, Sales Training Speaker, Case Studies, Evening Activity.
Saturday:
Breakfast/Lunch, Technical Sales Speaker, Case Studies, National Society of Sales Engineers Presentation, Awards Banquet.
The competition will run from 9-4PM each day, with a social activity each evening. Friday night there will be a social hour with judges and industry members, and Saturday night there will be an award banquet at Olde Main. Teams of three are recommended, and partners can be assigned to you if you don't have a team put together.
Dress Code: Friday Day-Business Casual; Friday Night – Casual; Saturday Day/Night-Business Formal.
*PARTICIPATION FROM IOWA STATE STUDENTS WILL BE CAPPED AT 20 TEAMS.
Information for participants, prior to competition:
The Competition this year has competitors from California Polytechnic, UCLA, and University of Central Florida. Along with these other schools, there are several teams signed up from Iowa State University!
We would like to extend our thanks to the many sponsors of our competition this year!
SPONSORS:
PLATINUM SPONSOR:

Gold Sponsor:

Silver Sponsors:

Bronze Level Sponsors: