Three chemical engineering groups at ISU (Shao, Tessonnier, Cochran) have joined forces to develop a completely renewable process to produce nylon polymers from sugar.
The work has been published in the most recent issue of Angewandte International Edition and was featured as the cover picture.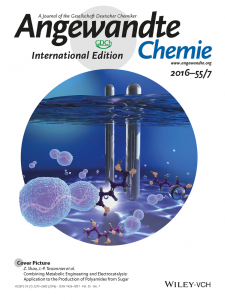 To read story published by Iowa State follow this link: http://www.news.iastate.edu/news/2016/02/08/biopolymers
Congratulations to John Matthiesen and Miguel Suastegui, for being the first co-authors of this publication.