The ISU Steel Bridge Club is a civil engineering student organization completely comprised of students ranging from freshmen to graduate students. As a student organization, we are responsible for raising all the money for the bridge and competition. To do this the club sells pizza every week and writes sponsor letters each year to ask for donations. The design and fabrication are all done during students' free time during the week nights and weekends. The club holds bi-weekly meetings on Tuesday and Thursday during the fall to discuss rule changes to the competition, design of the bridge and ways to raise money. In the spring, fabrication and construction practice require more meetings each week.
Design
Every year ASCE and AISC come out with new rules that govern that year's design. With each new set of rules, some items will remain unchanged while others change drastically. Our challenge is to design a bridge that does not violate the rules or spirit of the competition. The first step is to determine which portions of the rules have the greatest impact on scoring at competition, either design or construction. The Design Chair uses their free time during the Fall Semester to design and optimize the bridge.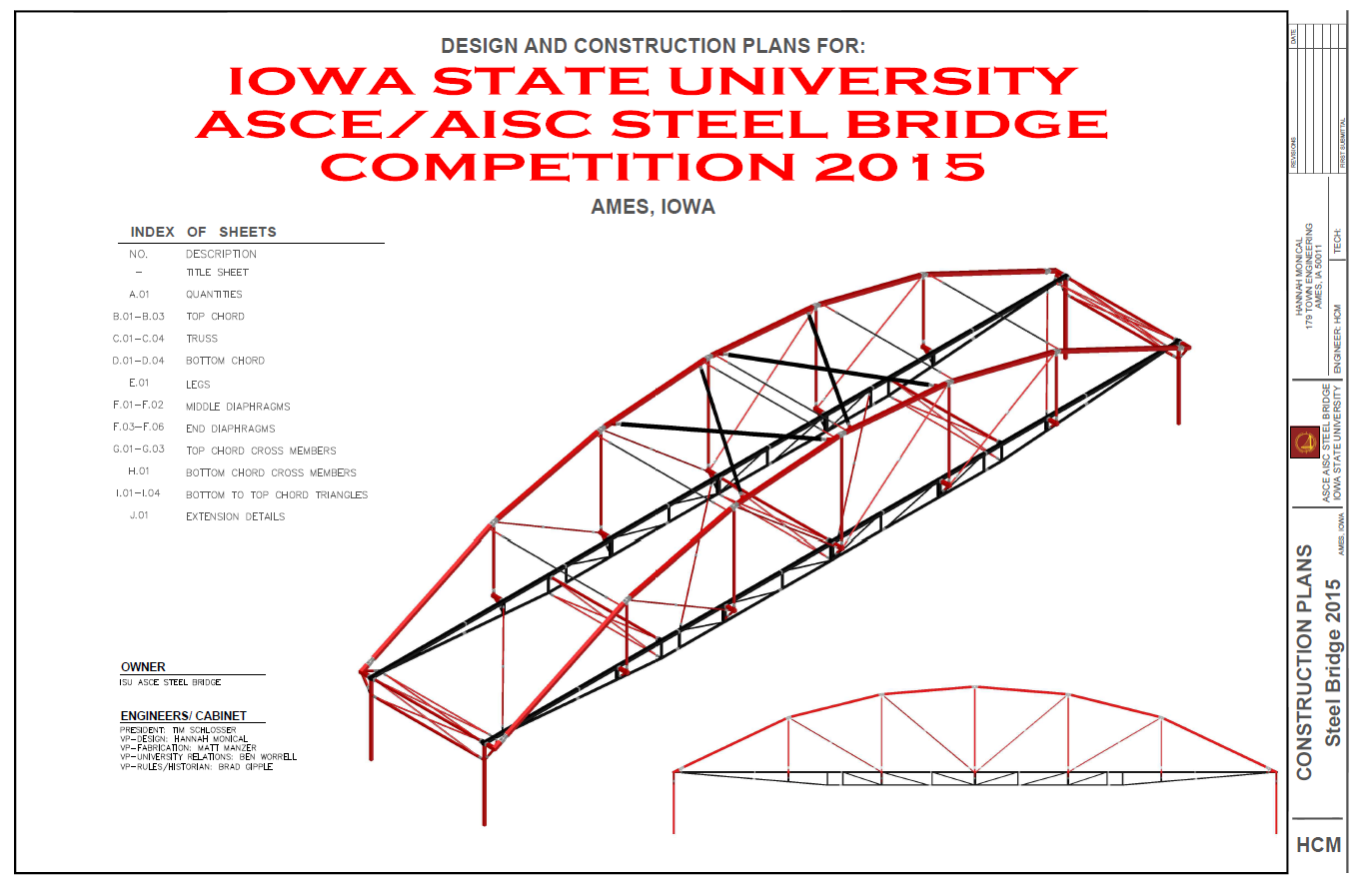 Fabrication
Before the bridge fabrication begins, we use the Fall Semester to train new    members how to weld, cut, and grind steel, so that they can contribute to the work being done on the bridge. Fabrication of the bridge occurs during the first month and half of the Spring Semester after all design work is completed.​

Competition
The Midwest Regional Steel Bridge Competition is traditionally a three day event. The first night there is a social event where students from each school can mingle and make new friends. On the second day there are different speakers that talk about what they or their company does in the industry; the day ends with a formal dinner and another speaker. On the third day, the day of the competition, all of the bridges are set up for display judging. Each year we are judged on Display, Construction Speed, Lightness, and Stiffness. A monetary value (or score) is then assigned to Economy, Efficiency, and an Overall Cost. The top two schools with the lowest overall cost from our region advance to Nationals.