Posts
Thank you to everyone for attending our kickoff event and we look forward to another exciting semester. If you were unable to attend the kickoff, or just want to peruse the presentation again, the slides are posted below.
Next week we will hold our first general meeting starting with an election for the Sponsorship Executive Chair. This is a great way to get involved, gain leadership experience and network.
The AIAA TAC meeting for 11/8/2016 has been moved to Thursday November 10th in order for members to vote in the Presidential election.
Thursday's meeting will involve a presentation from Tor Finseth regarding his human factors research.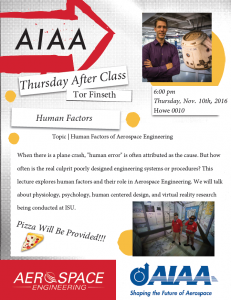 November 2nd marks 16 years of humans living and working continuously aboard the International Space Station, and you can see it from your house.
NASA JPL Lead Propulsion Engineer Todd Barber will speak on "Lords of the Rings: The Cassini Mission to Saturn."
The talk includes dinner catered by Hy-vee.  The first 50 students will be covered, otherwise admission is $4 for members.
Please join us Tuesday April 14th, at 6 pm in Howe 10, for our next guest speaker: Richard Schimidgall. He will be talking about his career, including his time at Johnson Space Center, McDonnel Douglus, and Rockwell Space Operations. Hope to see you all there!
Please join us Wenesday April 8th, at 6 pm in Howe 10, for our guest speaker Vera Martinovich.
Vera Martinovich is the manager for Flight and Electronic Systems Technology in Boeing Commercial Airplanes Product Development. Her duties include oversight for flight deck, airspace, avionics, cybersecurity, and connectivity technology development. Her previous experience for most of her 27 years at Boeing was as an engineer, mostly in flight controls and aircraft handling qualities. Her airplane programs included the F-15, AV-8B, V-22, 777, and 787.
Her interests in flight extends beyond her professional life. Vera is a commerical pilot and part-time flight instructor, and she holds type ratings on the B-25 Mitchell and DC-3, which she flies for a local museum. She and her husband own and maintain three airplanes, and she loves aerobatics, floatplane flying, and formation flying.
Vera was born in Wisconsin and grew up in Iowa. She got her Bachelor's in Aerospace Engineering at Iowa State in 1988, then her Master's in Aero/Astro at MIT. Six years ago, she completed a Master's in Organizational Leadership from Gonzaga and will begin an MBA at the University of Washington this fall.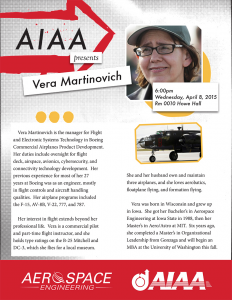 AIAA is making T-shirts! You can preorder them now. Attached are the designs. Both of the shirts come in both genders. If you would like one please email Josh Wassenaar at joshwass@iastate.edu. Let Josh know what size, style, and gender you want. They will cost $10 and be available soon. You do not have to pay immediately, but you will have to pay before you can receive the shirt. Please feel free to email our president Nathan Hemming if you have any questions.
You have an opportunity to attend this year's AIAA Congressional Visits Day (CVD)  in Washington D.C. on March 3-5th.  Be aware this occurs a little more than a week before spring break. Through face-to-face meetings with members of Congress, congressional staffers, key Administration officials, and other decision makers, Congressional Visits Day raises awareness of the long-term value that science, engineering, and technology bring to America There will also be some free time to explore the capitol. The group will be leaving around 11 on Tuesday and returning at 9 on Thursday. The majority of the cost will be covered by the department. You will have to become a national and local member of AIAA, which costs $35 if you are not a member of them already. Unfortunately only a limited amount of people can attend. Consequently there are only 8 available slots for the trip. If you want to attend please email me at nhemming@iastate.edu. Please include your full name, isu id, year classification (senior, junior etc.), any involvement you have in the aerospace department, and reasons why you want to go. Applications will close on Wednesday at midnight. If you are selected you cannot back out. Hope you all apply.